Everyone knows the stories about people getting scammed on the internet. Someone clicked the wrong link and suddenly they got a huge vibrating
replicate vagina
of a horse in the mail.
However, I haven't got something like this, but I played with the thought of getting a MacBook Air for several weeks. Here's what happened:
I've got one of those 15″ MacBooks with HD Display, 128GB SDD and 750GB HDD. It's a workhorse. No load times, nothing to complain in general. I can take that thing with me and work in Photoshop like I'm sitting in front of a 20″ display. It's pretty awesome. But it's also huge and heavy. So there is me, wanting a mobile computer on which I can open 80MB iPad retina .psds without any difficulties, but there is also me not wanting to take that thing with me when I know I'm not going to use it for something else than writing stuff like this post here.
iPad? Nice, I dig it for reading, casual surfing, but as soon as I have to write anything on it, I'm irritated. All keyboard layouts don't fit my typing style, the horizontal version is far too big, the other one only slightly to big but it feels strange to hold the iPad in portrait mode whilst typing and the divided one is just a pain to write on because I'm not used to have a divided keyboard. Also I'm not able to look for unknown words on leo.org without switching apps, swiping here and there and blergh. I tried the keyboard dock and it's nice, but somehow it doesn't feel right when you have to switch from keyboard to swiping and from tapping to typing. (Whoa. Read that out loud!)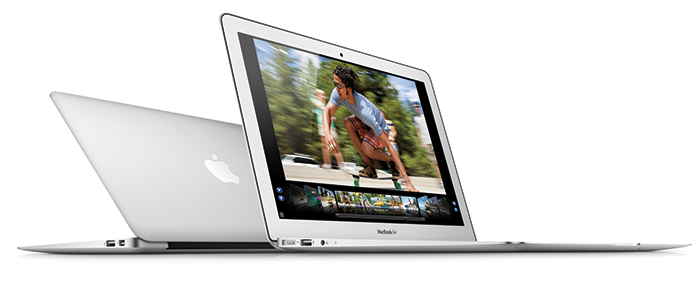 As I mentioned before, my workday changed a lot lately, I'm far less in Photoshop than I used to, I'm typing far more e-mails and sometimes I know that I'm going to work a bit more when I get home, and it's just writing. I don't want to do it on the iPad, I don't want to do it on that 15″ battleship, so I thought one of those shiny MacBook Air devices would be nice.
Long story short: I surfed on Amazon, looked at my wish list, the Macbook Air 11″, 128GB SSD, 4GB RAM I've saved there, saw a button that promised delivery until the next morning, pressed it in assumption that it'll go straight to my shopping cart, didn't see that it was one of those 1-click-order buttons, saw the "Thanks for your order" page, felt silly. And happy.
What can I say? It's not like I've tested this thing for weeks, but I already know that this is gonna be one of my favorite products I own. It's like a mashup of an iPad and a MacBook, it's incredibly light and small (I took 11″ because I wanted it to be as mobile as possible), I'm able to do everything I want on it, like typing this post and using Alfred to look up English words I don't know without swiping and switching apps.
The best thing is: The screen is big enough to show two applications at once and small enough to let me focus on the thing I'm working on. I even use fullscreen apps and only the trackpad with gestures, because it work's like a charm on a display of this size. Even the notification center makes sense.
Everybody I know who had a two computer setup switched back to just one, because they where irritated by keeping them in sync and having to deal with the fact that… yeah, what was it? I don't know, but they sure had their reasons. I think I'll get along with it. Everything I use syncs via Dropbox, iCloud or Google. Works for me.
I'm looking forward to it. Today is the first day I left the battleship at work and right now I'm sitting in my bed, writing this post on the little gem called MacBook Air. I'm totally hooked.