It's easy to find a wide variety of clients in any App Store out there. Some are mighty like Tweetbot, some are kind of unknown, like Weet. Then there is the official app by Twitter and a lot more – and I don't love any of them.
Times changed. Tweetie was nice when it was released some years ago. Nowadays it wouldn't be good enough, it would feel cheap. Back then, everyone liked that it looked and behaved like iOS in every way. Today that would just feel wrong. Not even the iOS standard apps do that anymore.
Those times felt like a gold rush for app developers and designers. Everyone built a client for Twitter. That changed some weeks ago, when Twitter announced a lot of new rules which basically render the development of a third party Twitter client useless.
Just a quick look on the five clients for Twitter that I consider worth testing:
What's the problem?
There really is no problem. I like many of the clients on the market, but I love none of them. Also I'm a designer, so I figured I could try to build something that would fit my needs and my understanding of mobile design in 2012.
Disclaimer: This is nothing that's really meant to get built, consider it something someone threw together in Photoshop to keep his mind occupied with something else than the stuff he does at work.
The main idea
I don't really like how the screen space is used in apps like Tweetbot. A few days ago I watched the keynote Steve Jobs held to announce the iPhone (yeah, again). He describes how a touchscreen is better than hardware buttons because we're able to change the keys to fit every situation.
So I looked at my Twitter client of choice – Tweetbot – and asked myself: "Which are the things I don't like?"
I want something that shows as much content as possible. Ana pp whose main aspects (the tweets, posts, whatever) are not squeezed between two dark bars, one that feels fast and adapts to the situation at hand.
What I came up with
I really like how Path introduced the button that hovers above the content. I saw it and realized how much potential there is. We can add as many fancy gestures as we want, they'll never feel quite right, because we don't do anything with gestures in real life. Try pinching a piece of paper. Good luck. My point is: I like the idea that there can be more options hidden behind something classic as a button.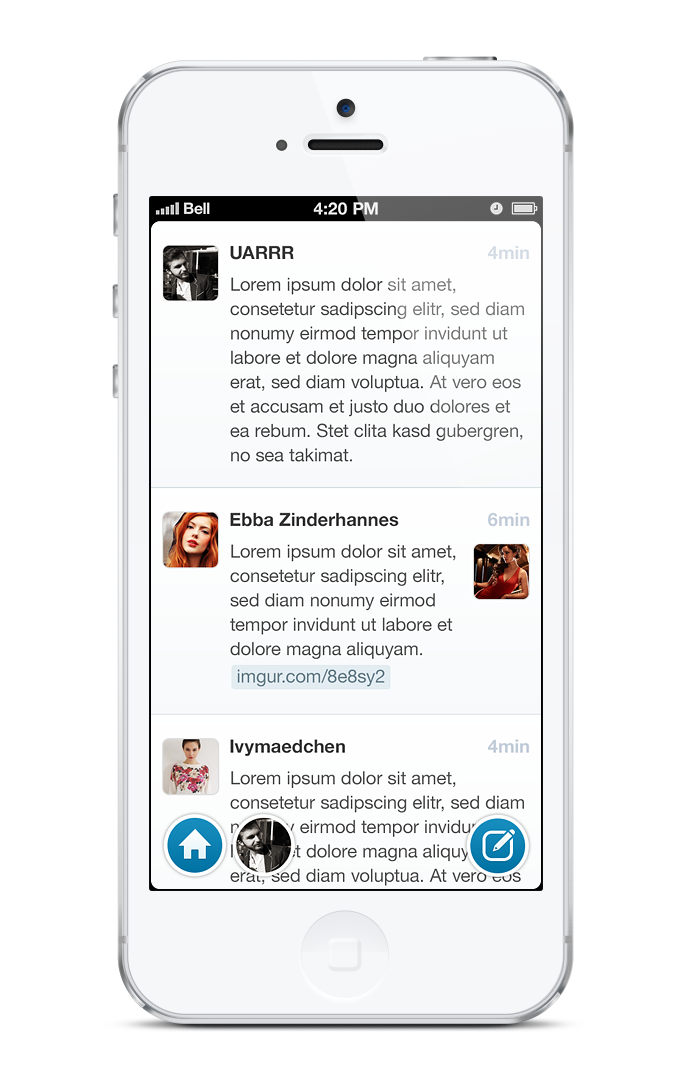 So my whole approach relies on these kind of interactions. First of all: No bars. The whole screen is filled with posts. It's a list of content, with three buttons hovering above it. Not more, not less. The button in the bottom right posts something new. Let it be a new post when you're on one of the timelines or a direct message or reply when you're on a profile of the user.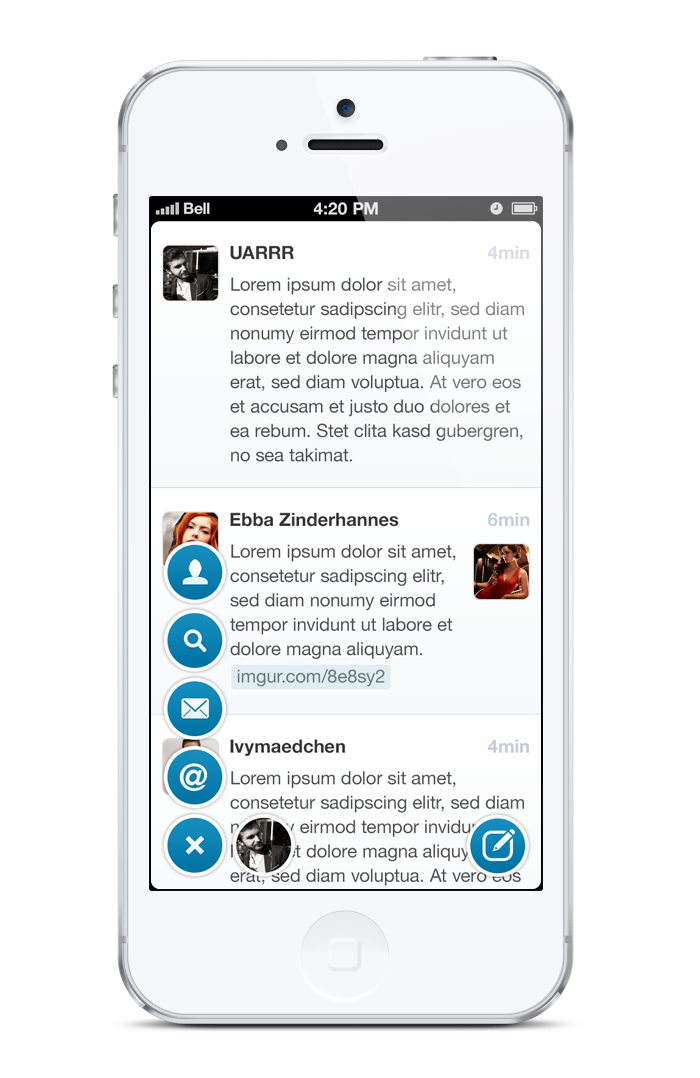 The button in the bottom left is the menu. It just shows where you are. When you tap it, it shows all the areas you're used to. Timeline, Replies, Direct Messages, Search, Profile. Most of the time you stay in your timeline, so no need to display a dark bar at the bottom of the screen to remind you of what also could be used.
One problem that has to be solved is that you want to know when something has happened in of of the other areas. That's especially important in something like a client for Twitter. As long as you're not one of the people loving unified timelines, you have a list of posts by people you follow and a list of posts that are mentioning you. So what if someone replies to you and you're in your following timeline?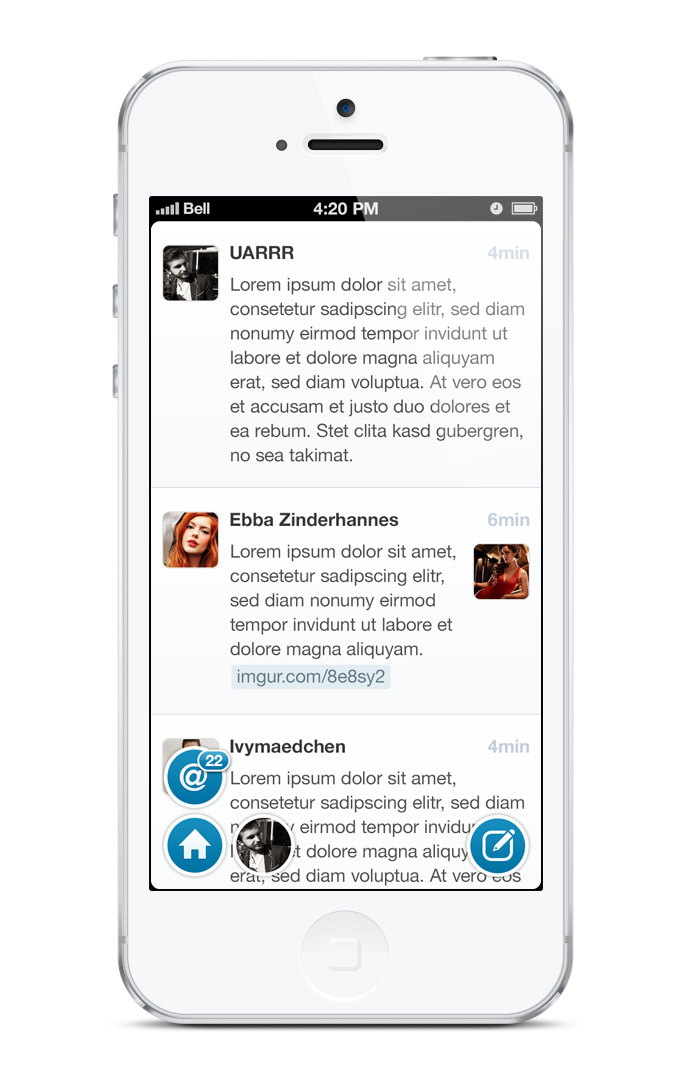 A second button is displayed which shows where something new has happened and how many posts are waiting for you. Tap it to switch to the area of interest. If nothing happens, nothing is displayed. I know that this means you have to do one more tap every time you want to switch to an area that has nothing new (like search) but you're not going to do that as often as you want to see your timeline.
Same goes for the button to the right of the menu. It shows which account is active, if anything happens in one of the other accounts and you decided to activate notifications for it, the relevant button pops up, shows you how many new posts there are, you tap it and it switches to the right area.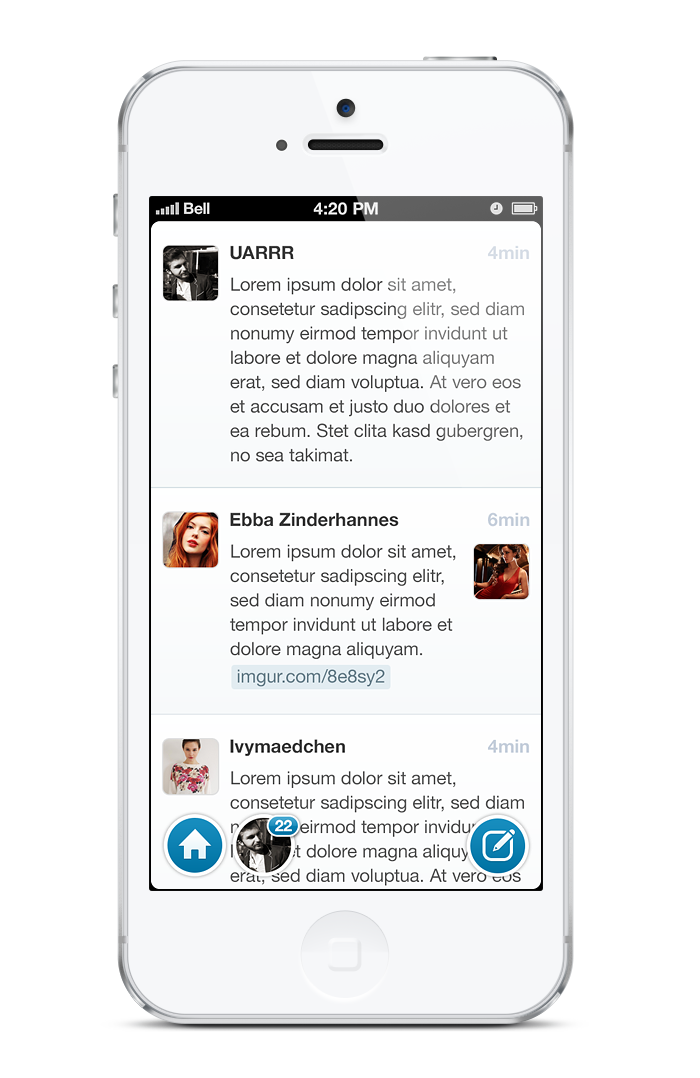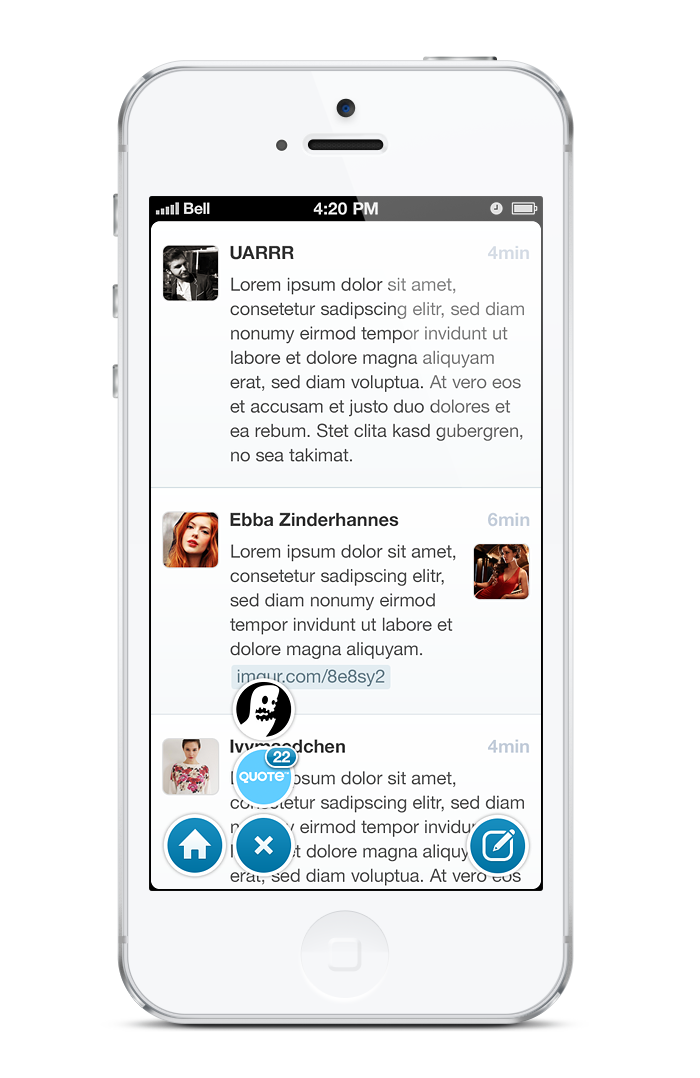 One of the big problems is to find a place for all those small actions you can do with a post. Reply, view conversation, mark it as favorite, view the profile. Tweetie let you swipe over the post to reveal the hidden options or you could just tap it to switch to a second screen that showed the options directly as buttons. Flurry does it the same way. Tweetbot uses one tap to display a menu that slides from under the post, and a double tap to show the single view and you can also use a triple tap for something. Kind of confusing.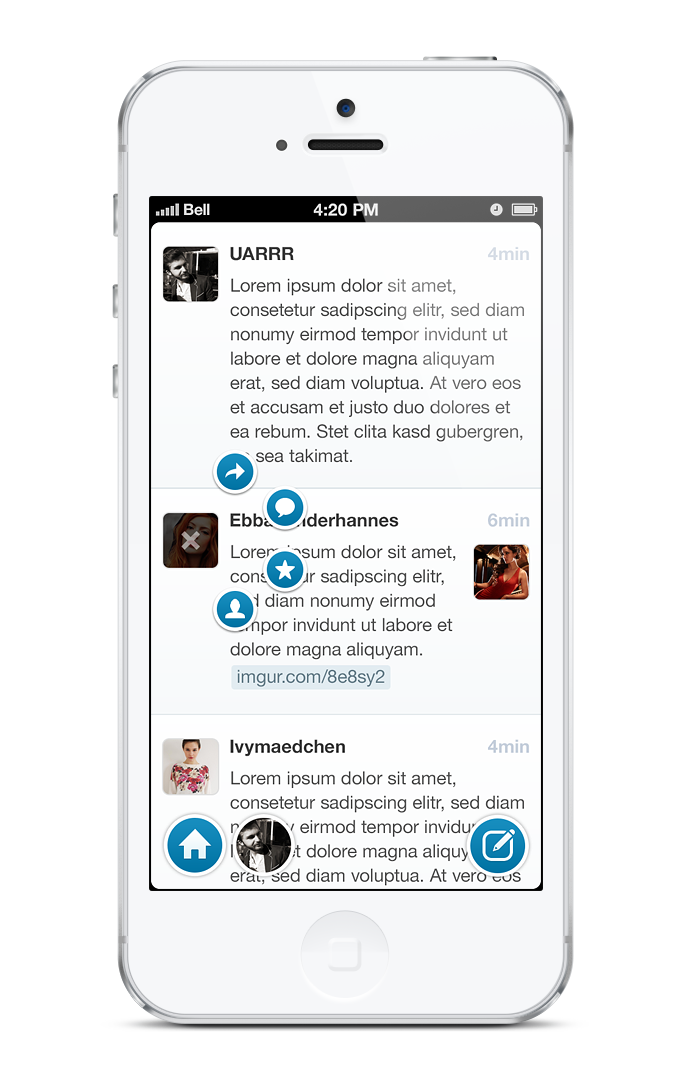 I figured it would be nice to solve this without gestures, without a second layer and without switching to another screen: Tap the tweet, the options present themselves as small buttons around the profile pic of the person. Done.
I know that all this is nothing new. I just threw together some good ideas and got what would be the ideal client for my needs. And I don't care if this is something for Twitter, App.net or Tent.io. It's just something I would like to use to post my daily thoughts to some kind of social network.
Also: If anyone has the time and desire to build this thing: I'm happy to hear from you. It's not going to be my new favorite project, but I'm sure willing to provide layouts and more thoughts on this. I'm going to finish this thing and show it here, no matter if someone is going to build it or not.
I'm looking forward to hear what you think of this approach. I'm sure I missed something. <3